Home Safety Assessment & Hospital Discharge Planning
An Evergreen Home Safety Assessment will identify repairs and modifications to minimize risk of falls or other serious accidents causing injury. Evergreen strives to help you live safely and independently in your own home for the long term.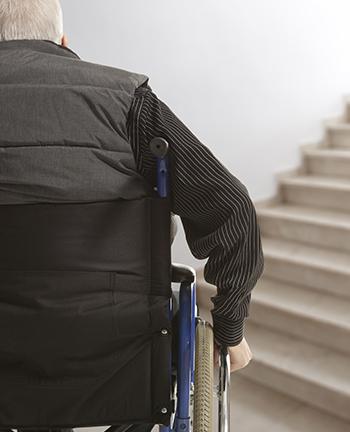 Evergreen's Hospital Discharge Planning Services ensure that you have a smooth transition from hospital to home and that you get the proper follow-up care.
Under the supervision of an experienced occupational therapist (OT), the program
Helps you avoid further injuries from falls and other accidents that would otherwise be preventable
Ensures that all your needs are met to achieve a timely recovery in the comfort of your own home or community
Takes the stress off you and your family in navigating the recovery process
The main steps of the service
Before you leave the hospital your OT will liaise with your treatment team in hospital to discuss your home support and equipment needs.
Your OT will facilitate delivery and installation of the necessary equipment to your home before you're discharged from the hospital.
When possible, your OT will visit you at home within 24 hours of being discharged to complete a home safety and accessibility assessment to ensure that all equipment and supports are safely in place.
The in-home OT assessment includes a comprehensive interview to verify your level of function before you were injured or became ill, a functional assessment and consultation with your healthcare team.
To help you become as independent as possible during the recovery process, your OT will teach and guide you on how to use the equipment and adaptive strategies.
Recommendations from your OT may include
Additional assessments such as a cognitive assessment
Involving other healthcare practitioners -- Physiotherapists, Registered Massage Therapists, Kinesiologists, Psychologists, Speech Language Pathologists and others
Equipment aids -- such as wheelchairs, walkers and bathing equipment
Cognitive and/or Physical Rehabilitation Programs
Transportation assistance to get you to and from medical/rehab appointments
Home support services such as homemaking and personal care aides
Grocery delivery services
Return to school or work supports
Referrals to publicly funded and/or private programs
What are the advantages of hiring Evergreen Rehab?
Evergreen's OTs are the "glue" that keep the treatment team together. They communicate regularly with your medical and rehab team to ensure collaborative, consistent care to achieve your rehab goals.
Strong communicators who provide comprehensive written or verbal reports to insurance providers so that they stay informed about your needs for a safe and timely recovery
Experienced case managers who help you to navigate insurance claims
Creative problem-solvers who promote independence in the face of any injury and/or environmental barrier
Experts in assessing and treating cognitive deficits -- secondary to concussion, traumatic brain injury, aging, chronic pain, mental health conditions or other causes
Experts who can assess and address functional limitations
Strong community contacts and resources to ensure you get the right treatment team for you
Extensive knowledge about support services and assistive equipment available
Contact us for an Assessment or Make a Referral
You can access our home safety assessment services in most areas of Vancouver, West Vancouver, North Vancouver, Burnaby, Richmond, New Westminster and Coquitlam. Please call Evergreen Nursing & Rehab today at 604.264.7959. For submitting a referral, please fill out our referral form.