Ergonomic Assessments
Ergonomic assessments identify risk factors for injury due to repetitive movements, strong forces, awkward postures, static sitting and other potential risk factors impacting the worker. The assessment evaluates the best ways to fit a given job to the worker.
It can be conducted with workers who have had a specific injury or ailment to promote optimal workplace health, job satisfaction and performance or as a preventative measure to reduce the risk factors that may lead to decreased performance and work loss.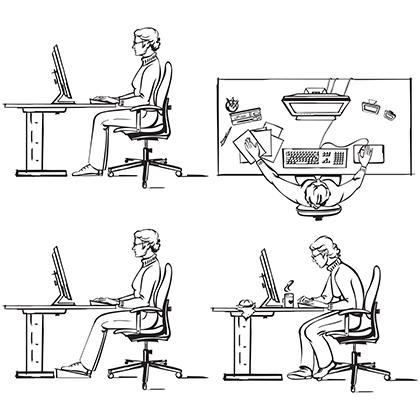 The assessment includes details such as
Design of workstations, work process as well as tools and equipment specific to the worker
Risk factors that may have been unidentified
Education on how to modify the physical workspace and adaptive strategies for the worker to manage the symptoms at work
Information and recommendations for both the employee and employer at the time of the assessment and in a formal written report (if requested)
Contact us for an Assessment or Make a Referral
You can access our ergonomic assessment services in most areas of Vancouver, West Vancouver, North Vancouver, Burnaby, Richmond, New Westminster and Coquitlam. Please call Evergreen Nursing & Rehab today at 604.264.7959. For submitting a referral, please fill out our referral form.