Award-Winning Home Care Company- Best In-Home Nursing Services
Evergreen Nursing Services has won both local and national awards in recognition of its excellent service provision.
GOLD Consumer Choice Award - Nursing Services, Vancouver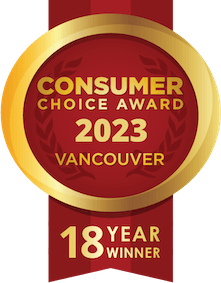 The Consumer Choice Awards identify local businesses that have been voted by the public as being their top choice for business excellence.
Since 2005, Vancouver consumers have voted Evergreen Nursing Services as their GOLD choice for nursing services every year. Receiving this award on an annual basis is a testament to Evergreen Nursing Services' dedication to providing the best private home support and nursing care in the lower mainland. Get more information on the Consumer Choice Awards.
Accredited by Canada's Largest Healthcare Audit Institute
In July 2014, Evergreen Nursing Vancouver was accredited by Accreditation Canada, the country's largest healthcare quality auditor institute. Throughout the rigorous assessment process members of Evergreen Nursing's team successfully demonstrated the efficient, client-centred care for which they are known.
The auditors praised Evergreen for its strong culture of nurturing, safety, respect and continuous pursuit of providing excellent health care.
" Evergreen Nursing has a reputation for quality care, client satisfaction and responsiveness [...] takes great pride in providing personalized, flexible and high quality private home care services. "
~ Audit Report, July 2014, Accreditation Canada