Cogmed Working Memory Training
Cogmed Working Memory Training Program is an evidence-based computer program aimed at improving attention and working memory in children, adolescents and adults.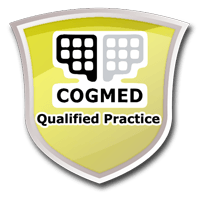 Cogmed has combined Neuroscience with computer games that constantly adjust the level of difficulty to your performance. The better you perform, the harder the exercises become, ensuring that you perform at the maximum capacity.
You can do the program up to 5 days a week and complete it within 5 to 10 weeks. However, the frequency of your daily training sessions and the length of your participation depend on your personal challenges and needs.
A Certified Cogmed Coach, who is required to be a licensed healthcare professional, will lead your training, track your results and motivate you throughout the program.
What does the Program Include?
Initial interview
Startup session
5 to 10 weeks of training (the recommended duration will depend on your initial interview findings)
Weekly coaching calls
Wrap-up session
6-month follow up call
Cogmed Training web access
12-months of Cogmed Extension Training
Why is Cogmed different from other "brain training" programs?
Cogmed Working Memory Training Program is designed to improve your ability to learn new skills, rather than teach you new skills. It is founded on the concept of neuroplasticity, meaning that the brain is able to adapt and change the way it functions to promote maximum performance.
Cogmed targets clear and specific areas of difficulty -- attention and working memory. You will benefit socially, professionally and academically as you become better at focusing on the task at hand.
Cogmed is a high quality service that provides you with a Certified Cogmed Coach who will support and motivate you throughout the training process.
Cogmed Working Memory training is based heavily on peer-reviewed research and research continues on the benefits of Cogmed.
Is Cogmed right for you?
Do you have difficulties with some or all of the following?
Remembering instructions
Learning new things
Reading and understanding what you just read
Organizing your life (e.g. remembering appointments, important tasks, etc.)
Following social conversations
Holding back on your impulses
Managing your time
These are some examples of working memory challenges and may indicate that Cogmed Working Memory is right for you. Individuals with Attention Deficit Hyperactive Disorder (ADHD), traumatic brain injury and seniors are some of the groups that have benefited from Cogmed.
Please contact Tara Trethewey, Evergreen's Cogmed Coach, for a free telephone consultation to determine if Cogmed is right for you.
How much does it cost?
Program costs vary from $1,500 to $4,000, depending on the recommended length of your program and whether you need additional paid support such as a Rehabilitation Assistant. After your phone consultation with our Cogmed Coach, Evergreen Rehab Services will provide you with an estimated cost of your program.
Contact us for an Assessment or Make a Referral
You can access our Cogmed Working Memory Training Program in most areas of Vancouver, West Vancouver, North Vancouver, Burnaby, Richmond, New Westminster and Coquitlam. Please call Evergreen Nursing & Rehab today at 604.264.7959. For submitting a referral, please fill out our referral form.