Active Rehabilitation Programs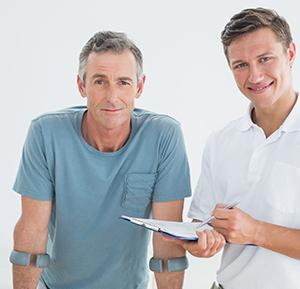 The initial acute care treatment of your injury or illness may be over, but if you're still not feeling like yourself we can help you to improve your strength, flexibility, conditioning and sense of well-being.
Directed by an occupational therapist and implemented by a highly experienced kinesiologist, the goal of Evergreen's Rehabilitation program is to help you meet your physical goal, whether it is learning to walk again, playing soccer or getting fit enough to return to work.
Active Rehab Program Customized to Your Needs and Goals
Specific to your needs and goals, your rehab program will include working with an Evergreen occupational therapist and an experienced kinesiologist. Every program begins with medical clearance from your doctor or medical specialist and will include a range of services.
An Active Rehab Program customized by a kinesiologist who works with you one-on-one.
Your kinesiologist will continue to monitor and modify your exercise program to ensure that you continue to make physical and functional gains.
Aquatic therapy may be recommended to gently introduce you to physical activity.
We work with you in a familiar setting such as your home or local pool, community centre or fitness facility.
You learn techniques for proper body mechanics and exercises to help you transition into an independence exercise program that you can continue for years to come.
Integrating Functional Movements into Your Active Rehab Program
According to your goals occupational therapy sessions will assist you to integrate functional movements into your active rehab program when needed. For example:
If you have difficulties stepping into a bathtub, your occupational therapist will consult with your kinesiologist to incorporate strength and balancing exercises to help you with this functional movement.
If you have, or if you foresee, difficulties performing certain activities specific to your work, your program will incorporate exercises that simulate the demands of your job. This allows you to practice in a graded, safe and supervised manner, thereby preventing further injuries when you return to work.
Contact us for an Assessment or Make a Referral
You can access our active rehabilitation services in most areas of Vancouver, West Vancouver, North Vancouver, Burnaby, Richmond, New Westminster and Coquitlam. Please call Evergreen Nursing & Rehab today at 604.264.7959. For submitting a referral, please fill out our referral form.